BRING THE OUTDOORS INDOORS
frequently asked questions
This FAQ section relates ONLY to Elite Teepees

®

Carlsbad, San Diego.
The other locations are run as independent businesses. If you have questions about another location please refer to their website [here]

, contact them directly, or use the contact function

[here]
What to expect at an Elite Teepees® sleepover.
---
We aim to provide a hassle free experience and delight our clients. In preparation for our arrival, on the day of your sleepover, you will need to clear the party room. Then simply leave the rest to us. Before your guests arrive, we will deliver, assemble and style your chosen Elite Teepees® collection, beautifully decorated to perfection with bedding, bunting, pillows, fairy lights and rugs. Then when you've finished, we will come back the next day to pack it all up, leaving you with only happy memories to cherish forever. We will agree a tentative delivery time with you and confirm this with you a few days before your event. We generally allow 60-90 minutes for a party set up for 6 - 8 teepees, and 45 - 60 minutes for party pack down.
---
Which areas does Elite Teepees® deliver to?
---
We deliver to all areas within San Diego, and surrounding regions. The standard delivery fee of $70 covers the loading, unloading, delivery and pick up of your Elite Collection within our core delivery zone. The following areas are included in our core delivery zone:
Oceanside
Carlsbad
Encinitas
Cardiff-by-the-Sea
Solana Beach
Rancho Santa Fe
Del Mar
The table below provides delivery fees across San Diego county. If you are outside these areas, e.g. Orage County, then just contact us and we will gladly provide you with a quote for delivery.
---
How much space do I need?
---
Elite Teepees: The overall width of the teepee and mattress is 36 inches wide by 6ft 2 inches long. The best configuration for small spaces is to have 2 rows of teepees facing each other e.g. a space of 12ft x 14ft works well for 6 - 8 teepees.
Please remember to allow space in front of the teepees for guests to access their teepees. Each teepee set up requires a minimum of 3ft x 7ft. Below are some examples of typical Elite Teepees layouts and minimum space requirements.
Slumber Den: The Slumber Den with 4 mattresses, which comfortably sleeps 4 adults, (or more snuggling kiddos) requires 11 ½ ft x 8 ½ ft of floor space.
If you are unsure if you have enough room, don't hesitate to contact us with your room measurements. No space has beaten us yet and we enjoy coming up with creative solutions to ensure that all your guests are cozy and cared for.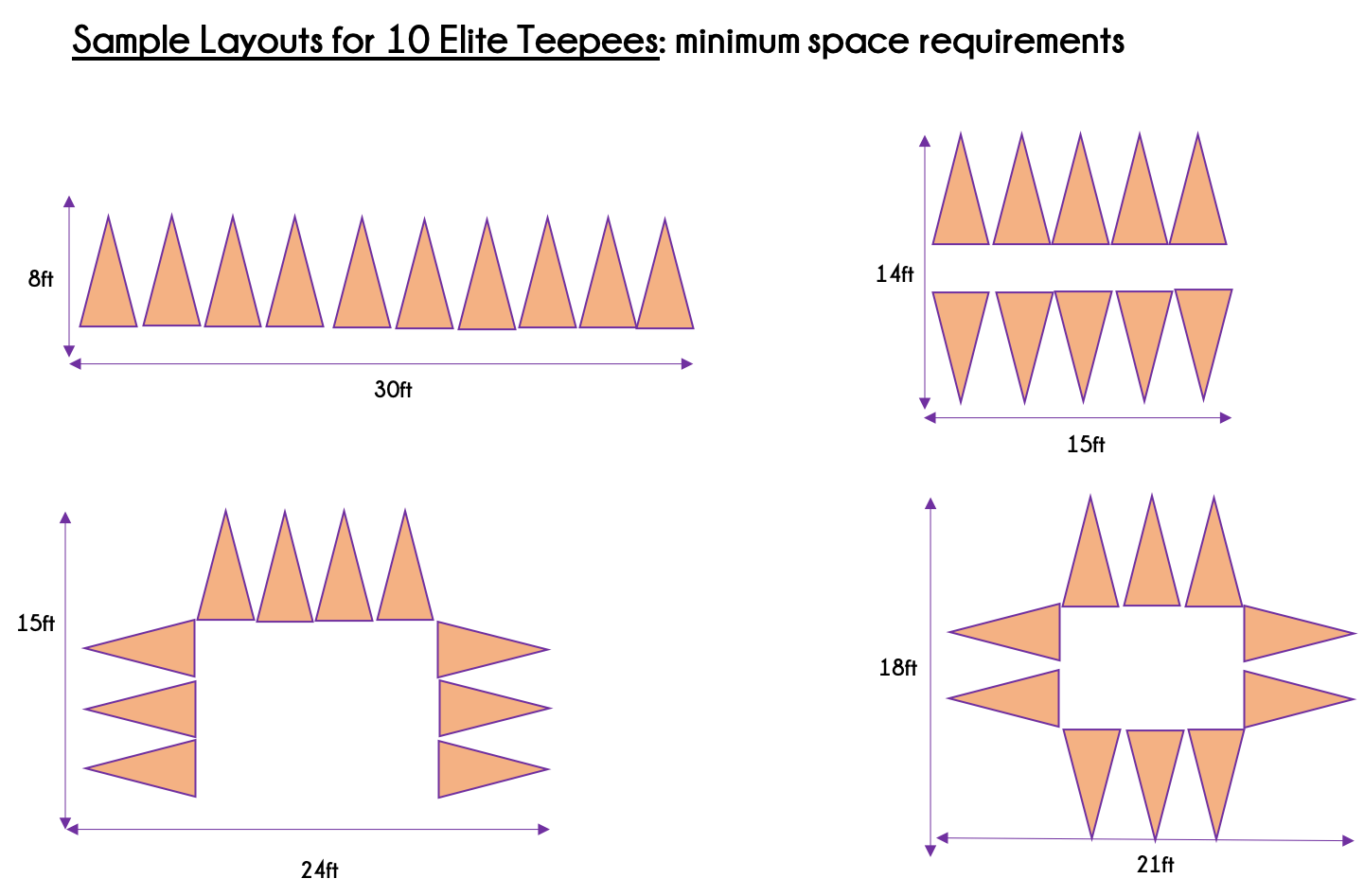 ---
May I hold an Elite Teepees® party in a hotel or a club house?
---
Absolutely. You will need to check that the party room is cleared in preparation for our arrival and you will also need to ensure that the venue is aware of our arrival and provides adequate loading/unloading facilities and access to the party room.
---
How far in advance of the event should I book?
---
You're best to book in as soon as you have settled on a date. Due to the high demand for parties on Friday and Saturday nights we recommend booking at least 2 months in advance to avoid disappointment. Payment of your $200 deposit secures your preferred party date and Elite Collection. Once you have a date in mind, schedule a consultation with us, so that we may discuss your ideas and confirm availability. You can schedule a consultation here.
---
Once my party is booked, what do you require from me?
---
We are a full service provider, which means that everything for your sleepover is included... all the teepees, bedlinen, lighting and decorative accessories. So once your booking is confirmed, all we need from you is to clear the party room ready for our arrival on the day of your party. We create personalized name plaques for each Elite Teepee, so if you would kindly provide guest names before the event that would be great. Other than that, all we ask is for you to bring a sense of fun and adventure. We aim to make it easy for you to focus on making the party a dream come true. Naturally, your guests will need to bring their own sleepwear and wash kits.
---
What age do you recommend for kids sleepovers? Are Elite Teepees® suitable for adults too?
---
We embrace any age and cater to all life's celebrations. From experience, typically kids are ready for a sleepover from about 6 or 7 years old. Our mattresses, at 74 inches, are full length and most adults find them extremely comfortable. Elite Teepees® are fabulous for any of life's special celebrations where you want to create a magical sleepover - from a night of fun with friends, your sports or social team; a special birthday (double digitd, entering the teen years, Bar/Mat Mitzvah Quince); a "girls" or family "glamp-in" or an end of year or graduation party; or bachelor/ette parties or kids corner at a wedding reception, etc. etc. For the younger children, or those not quite ready for a full sleepover, consider a "semi-sleepover." Perhaps a pajama party between 5pm and 9pm, where the kids watch a movie, drink hot cocoa and have a couple of hours sleep, while the adults enjoy themselves.
---
How is the bedding cleaned?
---
All bedding is laundered after each use. We use the #1 recommended detergent brand by dermatologists, allergists, and pediatricians. Sleeping pillows and freshly laundered pillowcases are included with each Elite Collection. However, if you prefer, brand new pillows and pillowcases are available for purchase.
Coronavirus Update March 2020
To advise that every precaution is being taken to ensure your teepee party is risk free. All of our bed linens are machine washed after every sleepover experience. All other fabrics (teepee covers and decorative pillows) are spot cleaned and are treated with a safe, natural, non-toxic, antibacterial solution. All hard surfaces are disinfected.
---
How does payment work?
---
All payments are made online. A deposit of $200 is payable at the time of booking to secure your chosen date and Elite Collection. 1. You will receive a receipt for your deposit from Authorize.Net or PayPal depending on your method of payment. 2. Your booking is secured once you have received a confirmation email from Elite Teepees®, or the invoice for the balance due. 3. An invoice will be sent to you for the final balance, which is due at least 2 weeks in advance of the party date. Final numbers can be confirmed closer to the party date but we ask when booking that your numbers are as accurate as possible.

The final balance is due at least 2 weeks in advance of the party date.

Prices include any relevant sales tax and processing fees. We accept all major credit / debit cards, including Mastercard, Visa, Discover and American Express. Payment is processed by Authorize.net a secure credit card payment processor. PayPal is also accepted.
---
Are there any terms an conditions that I should be aware of up front?
---
As the party host, you need to be aware that you will be responsible for the replacement of any lost or damaged goods. There have been a couple of incidents with glow stick leakages, slime, chocolate candy, colored drinks, and vomit which have damaged fur, linens, and teepee fabrics etc. Trust us, the last thing you want is for your own furnishings to be ruined too! Messy crafting activities such as painting or pampering activities such as facials and nail polishing need to be undertaken well away from the tent area please. We appreciate your understanding. The full terms and conditions are agreed to when booking and can also be found here.
---
How much do you charge for a Elite Teepees® sleepover experience?
---
Overnight rental of an Elite Teepee is $90 per teepee.
Overnight rental of the Slumber Den is $360 for 4 full length matressess, including bedding. Additional Duvet and Pillow sets are available for $15.
This includes absolutely everything you could possibly need for your sleepover, including handcrafted themed teepee (or Slumber Den), proper mattresses, luxurious European bedding (duvet/comforter & sleeping pillow), decorative pillows, bed tray and fur rugs. Then we add decorative accessories, twinkling lights and a large sprinkling of magic. All your guests need to provide is their overnight bag and a sense of adventure.
In addition, there is a delivery fee to cover the loading, unloading, delivery and pick up of your Elite Collection. The fee within our core delivery zone (Oceanside to Del Mar) is $70, and is slightly higher if you are located further afield. Please refer to the "Which areas in San Diego does Elite Teepees® deliver to" FAQ for more information.
A deposit of $200 is payable at the time of booking to secure your chosen date. An invoice will be sent to you for the final balance, which is due at least 2 weeks in advance of the party date. All payments are made online and are processed by PayPal or by Authorize.net, a secure card payment processor.
---
Can Elite Teepees® be used outside?
---
Elite Teepees® are designed for indoor use only. San Diego is full of potentially dangerous creatures including coyotes, snakes, poisonous spiders and more, so it's not unusual for homeowners to find all manner of creatures in their yards. As the teepees are designed to be open, we do not want to put anyone at risk from the abundant wildlife.
---
How to book in 3 easy steps.
---
Step One – Have a special event coming up? Browse our curated themes to pick out your preferred Elite Teepees Collection and any add-ons you are considering. Step Two – Book a consultation with our expert party planner by filling out our form online. Here you will be asked to provide some basic details about your preferred date, themes you like, and Add-Ons to make the party extra special. Step Three – After your consultation, secure your party date by paying a deposit on our website by going to booking.
---
---